The All Souls Trilogy On TV
Rejoice! You are not imagining this!
The All Souls Trilogy is being adapted for television. On 3 February 2015, Deborah Harkness announced via Facebook that the All Souls Trilogy was in development with the BBC. Roughly a year later, on 8 February 2016, Deadline reported that the project had moved to the capable hands of Bad Wolf, the producers of Dr. Who, Life on Mars, Torchwood, and other hit TV shows. Jane Tranter and Bad Wolf will be producing the series, with Ashley Pharaoh and Deborah Harkness herself serving as executive producers and writers.
Eight Glorious Episodes Planned For Season 1 & 5 Seasons Total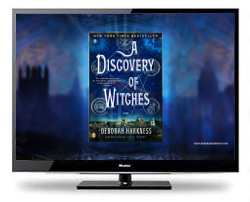 The production company has not announced broadcasters and schedules, however, Deborah has been "teasing" screenwriting sessions via Twitter and Facebook. Last September she even shared some details via Facebook. Eight episodes are planned, and with Deborah's involvement in the script, we expect the TV series to stay truth to the books. Not every single scene will make it to television however. Long dialogues for example tend to get eliminated as they slow down the pace on television. TV is just a different medium. And as Deborah wrote on Facebook:
Take the yoga scene, for instance. We all love the yoga scene. It makes us smile due to the absurd perfection of creatures doing yoga. Just try putting this in a script in a way that invites gentle amusement instead of eye-rolling and disdain. Not easily done. I'd rather we all kept it in our mind's eye than ruin it with an awkward on-screen attempt. Every detail of the books has to be discussed in this way, which is why it is taking a long time to bring it to you. But it will all be worth it when the series is faithful in tone, feeling, and character to the books even if it differs in detail.
A Production Designer joined earlier, as Deborah shared last May via her Facebook post:
[…] a Production Designer who is beginning to put together the overall look and mood of the piece. The producer and production designer have been out looking at locations (in the UK they call these "reccys") in Oxford.
According to the latest update, the production team includes four executive producers (including Deborah), one producer, a casting director, a script editor, a location manager, a production designer, and four writers (including Deborah). One of the writers is Charlene James, as confirmed by Deborah in a  twitter post. And best news yet:
The producers are interested in making a total of five seasons covering the whole trilogy, provided the stars align and the viewers watch it.
And on 30 January, Deborah added:
As for Easter Eggs–well, stay tuned as many of them will be revealed in the show!
In the most recent update on 21 June, Deborah wrote:
We are casting. CASTING. We are hiring department heads to take care of things like costume, scenery, and makeup. We have a full writers' room, led by our new showrunner and head writer Kate Brooke (Mr. Selfridge, The Forsyte Saga), who is coordinating the work of all the other writers and making sure that we keep delivering scripts to the production team—not an easy job. Shooting is scheduled to begin this autumn, so I imagine that someone (not me!) will announce cast and other news by then if not before.
What To Do While We're Waiting for News
Do not fear, we put together a survival guide to help you get through the wait. Here are some suggestions:
Key Links
A Discovery of Witches TV page on Deborah's website
Deborah's post on Facebook (5 January 2017)
Deborah's post on Facebook (8 February 2016)
Deborah's post on Facebook (20 September 2016)
Deborah's post on Facebook (24 May 2016)
Bad Wolf: Website | Twitter | Facebook
Ashley Pharoah: Twitter